Food tours in Montérégie
On June 15, I boarded the shuttle in the company of Julie Aubé, this nutritionist passionate about local products and who organizes her gourmet agri-tourism escapades « Prenez le champ » throughout Quebec. With many other Montrealers, I left Dorchester Square to embarked on this fabulous gourmet food tour in the Montérégie Region.
That day, we were also accompanied by Maude St-Hilaire, coordinator of the Circuit du Paysan, in Montérégie Ouest, where three of these gourmet tours will take place this season. This first trip was called « from the cheese maker to the vineyard ».
Through these food tours, Julie wants to show city dwellers that within an hour's drive, they have access to a variety of fresh, local produce. That day, it was around Saint-Jean-sur-Richelieu that we were going to meet three families of passionate producers.
Three unforgettable stops
Au Gré des Champs
First stop at the farm and fine cheese dairy Au Gré des Champs. We are welcomed by Marie-Pier, daughter of the producers and now co-owner of the company. After studying agronomy, Marie-Pier continued the wonderful adventure of her parents who, 30 years ago, decided, against all odds, to turn to organic agriculture and dairy production.
To make their production profitable, they started making cheese in 1995 and now offer 8 different kinds of cheese, including the excellent Au gré des Champs, which we enjoyed as a raclette at lunchtime, after a walk in the fields, in the company of their beautiful brown Swiss cows!
Au fil du Vent
Now on the way to the organic fruit farm Au fil du Vent where the Plamondon-Corriveau couple harvest grapes, blueberries, elderberries, hazelnuts and Gorria pepper – a close cousin of Espelette pepper – which they dry and put into small pots.
From their fruits, they make spreads, syrups and delicious fruit pastes. They also put the best honey made by the bees in their three hives. I remember coming to buy some of their products on the recommendation of Terroir et Saveurs du Québec!
But their star product is VERJUS, made from the pressing of immature grapes. It is very close to vinegar, with a pretty fruity note. Julie Aubé, like many cooks who have adopted it, uses it in all sauces and even prefers it to lemon (which cannot be a local product).
Le Mas des Patriotes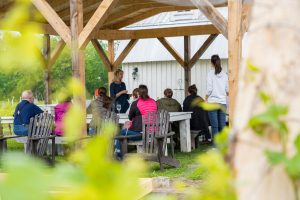 And to finish this tour in style, visit the magnificent Le Mas des Patriotes vineyard with the owners, France Cliche and Claude Rivard. This couple embarked on this wine-growing adventure in 2003 and produces excellent white, rosé and red wines. It is in a huge barn that they have completely renovated with refinement, but while preserving the original structure, that we are welcomed for the tasting. It's warm and beautiful.
As the rain stopped, we went out to continue the tasting near the vines, under the shelter provided for picnics. From next year, the wines of Le Mas des Patriotes will carry the Certified Organic seal. And Mrs Cliche is quite proud of it!
To discover the Montérégie region
The next trip "Take the field" of the Circuit du Paysan will take place on Sunday, August 4.
This food tour will take us to an organic blueberry farm to an organic orchard. Don't miss it!
To find the perfect activity for you in the Montérégie Region, visit their website.  Please note that tours are in French.
About us
Behind Nathalie photographie is Nathalie Choquette.
Coming from the tourism industry, converted to professional photography for the last 3 years, her desire is to put her talent in photojournalism at the service of SMEs in the tourism and agritourism. To know more, visit our page who we are.
The goal is to document in pictures their trades, services, know-how, site or equipment. All of this, in order to provide the client with professional images that will allow them to attract more customers. To discover some of our photo reports and trades service, visit our portfolio.
Need more info? Contact us!
Photos: Nathalie photographie